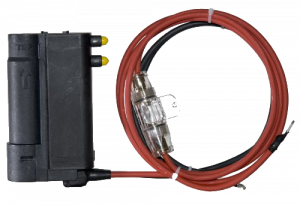 Alpha Therm's Heated Washer Fluid Reservoir
is a great compliment to our
Heated Windshield Wipers.
  This unit operates in "On-Demand" mode and starts to operate when the ignition is on and battery level is higher than 13.0 volts.  Once the unit starts to operate (engine is running), it will heat the washer fluid in approximately 30 seconds; driver operates the system manually to spray the heated washer fluid onto the windshield. Installation includes the following:
Heats your washer fluid to 125-135° F before spraying for fast, efficient clearing and cleaning of debris by wipers.
Eases the removal from everything to frost, ice and snow, bugs, grime, road oil, streaks, bird droppings and glare, making it a valuable onboard option all year.
Heated fluid helps unblock clogged wiper spray nozzles, ensuring consistent maximum spray distance and volume.
Heated wash removal of hard, course debris like ice and caked on bugs minimizes unnecessary wear on windshield wipers, extending their lives and saving you money.
Request A Quote