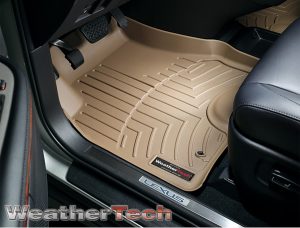 WeatherTech®
line of floor and cargo protection features digital laser measurements of interior sufaces and offer a consistantly perfect fit.  Products offered are:
FloorLiner™ DigitalFit® $127.95 per row
Patented tri-extruded composition allows for rigid core for strength.
The FloorLiner™ advanced surface design has channels that carry fluid and debris away from shoes and clothing into a lower reservoir.
The lower reservoir uses additional channeling to minimize fluid movement while driving.
Custom molded specifically for your vehicle.
Available for both the front and rear seats.
Guaranteed against faulty materials and workmanship for a period of 3 years from the date of purchase.
Easy installation
Available in black, grey or tan.
Cargo Liners from $127.95
Interior protection from all types of wear and tear
Complete trunk and cargo area protection
Digitally designed and custom molded to fit your vehicle
Easy installation
High outside lip helps contain spills
Quick and easy cleanup
A skid-resisitant surface
Protects and preserves the cargo area and trunk carpet
Engineered for toughness and durability
Guaranteed against faulty materials and workmanship for a period of 3 years from the date of purchase.
Available in black, grey or tan
Request A Quote