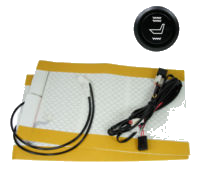 Heated Seats installed by Dealer Automotive Services can add warmth and comfort to your ride. The heating elements can be installed in most vehicles and can be installed in vehicles with cloth or leather upholstery. The power switch is generally located on the side of the bottom portion of the seat but other options are available depending upon vehicle. Installation includes:

Features include:
Quick Warm Up
High/Low Temperature Setting
Reduces Driving Fatigue
Low Power Consumption
Carbon Fiber Technology gives even heat distribution throughout entire heating area
Can also be installed in 2nd row bucket seats
NOTE:  Additional costs may apply for some import vehicles due to the type of upholstery in the vehicle.  Also, some vehicles have a passenger side air bag sensor mounted in the bottom seat cushion. We cannot install heating elements over the air bag sensors so we install bottom seat side bolster heaters instead.  Please contact us for a specific quote for your vehicle.
| | |
| --- | --- |
| Single Seat Installed | $329.50 |
| Both Seats Installed | $469.50 |
Request A Quote