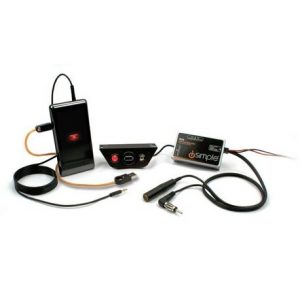 Universal IS32

model from iSimple  is compatible with most MP3 players, tablets and mobile phones.  Although there are many systems that allow you to access your iPod/MP3 with the controls on your radio, we have found our universal unit to be the most popular and easiest to use. The universal kit connects directly to the factory antenna loop on your car radio giving you crystal clear audio without any static or noise EVER. Works with most all aftermarket or factory radios.  Additional features are as follows:



Additional Features:
Compatible with most all aftermarket or factory radios
Lets you stream internet radio
USB connection keeps your device charged (now provides 2.4A charging)
Great solution for Android, and other smartphones
Interrupts incoming antenna signal when in use for supreme audio performance
Dash mountable 3.5mm audio input for connecting your portable device
Includes convenient mini on/of toggle switch
Additional options are available for specific vehicles. Please contact us with your application and we can determine which unit is best for your vehicle and provide you with an exact quote.
Request A Quote