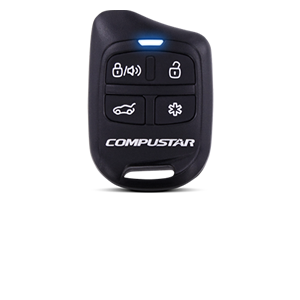 Compustar
CS-697-A
 keyless entry system works with any vehicle that has existing power door locks. The system includes hand held remotes to lock/unlock your doors and also has an option to open your electric trunk. Our installation includes the following features:
Basic Install is $229.50 and includes these features:
2 Four Button Transmitters
Parking Light Flash
Remote Panic & Car Finder Features
2 Auxiliary Channel Outputs ( to control various optional features)
Drivers Door Priority Unlock Control (Additional $50.00 Labor required)
Pathway Illumination
Ignition Door Lock Control
Full Feature Install is $249.50 and Includes the Basic Features PLUS:
Trunk Release Control (For vehicles with power trunk release)
Dome Light Control
If your vehicle is not equipped with power door locks, please contact us for a quote.  We can also install power locks in your vehicle and then add keyless entry.
Request A Quote