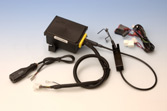 Universal UNI-150-RDS

model from Audiovox supercharges your factory car radio with features like iPod/iPhone connectivity and internet radio.  Although there are many systems that allow you to access your iPod/MP3 with the controls on your radio, we have found our universal unit to be the most popular and easiest to use. The universal kit connects directly to the factory antenna loop on your car radio giving you crystal clear audio without any static or noise EVER.  If your current radio supports RDS technology, artist and song names are displayed on your radio as well.  Additional options are as follows:




The UNI-150-RDS model is for Apple products and is $289.50 installed.

If your music is loaded on an MP3 device other than an Apple product, look to our UNI-200-USB Audiovox system to get your music playing.  Just use the USB cable for your MP3 device and plug it into the USB port on the UNI-200-USB and you're ready to listen.  Installation cost is $329.50.

Additional options are available for specific vehicles. Please contact us with your application and we can determine which unit is best for your vehicle and provide you with an exact quote.
Request A Quote