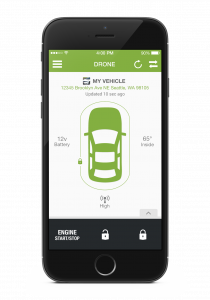 Compustar DRONE
 offers you the ability to start and stop your vehicle and lock/unlock your doors from anywhere in the world as long as you have an internet connection.  The app is free and is compatible with iPhone, Blackberry and Android phones, tablets and computers. The DRONE system can be installed as a stand alone system or as an add-on to our Compustar remote start systems with keyless entry.  Our price includes all parts and labor including the bypass module that is needed for most vehicles.  Prices may vary for older vehicles and some imports.  For an additional fee, you can also monitor the location of your vehicle with the GPS Tracking feature. Product features are listed below (
Highlighted
items
are included in the GPS package):
Free 30 days of basic service (must purchase service package after 30 days)
$59.99/year service fee after initial 30 day trial period or 2 year package for $99.99 or 3 year package for $129.99.  Can also pay monthly for $5.99 per month.
Keyless entry with ignition controlled locks.
Panic feature.
Car finder.
Online web control.
2-Way Confirmation.
Multi-Vehicle Capability.
Temperature sensor to monitor the interior temperature of vehicle.
GPS Tracking available.
$119.99/year service fee (instead of $59.99) or $299.99 for 3 years.
GEO Fencing. Set boundaries to be notified if vehicle leaves designated boundary.
Curfew Violations.
Low Vehicle Battery Alert.
Speed Alerts.
Service Reminders.
Vehicle Locate.
Engine On/Off. Know if your vehicle is being stolen.
Request A Quote