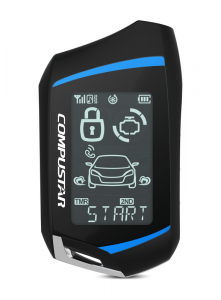 Compustar RF-2WT9-FM
features an LCD transmitter with keyless entry, 2-way confirmation and range of up to 3,000′. Our installation price includes all parts and labor including the bypass module that is needed for most vehicles.  Prices may vary for older vehicles and some imports.  Included with installation are the following:
(1) Four Button, 2-Way LCD Confirming Transmitter.
(1) Four Button standard 1-Way Transmitter.
Parking light illumination after vehicle is remote started.
Up to 3,000 foot transmitter range*.
25 minute default run time but 3, 15 and 45 minute options are also available.
Timer/temperature controlled starting.
Compatible with gas, diesel and hybrid engines.
Keyless entry with ignition controlled locks .
Trunk release for electronically controlled trunks.
Panic feature.
2 car operation capability.
Valet mode.
Pit stop mode which allows the user to keep the car running once the key is removed.
Dome light supervision when doors are unlocked.
Compatible with manual transmission.  Additional cost is $110.
Can add rear defrost control for $25.
2-step unlock with drivers door priority can be added for $50.
Control of power sliding doors can be added for $25 per door.
Extra 4 button 2-Way LCD Confirming remote at time of installation add $65.
Add alarm system with siren and shock sensor for $115.
Add Drone Mobile for additional $199.50.
*3,000 Foot Range:
Based on line of sight, unobstructed testing in ideal conditions. Actual range will vary due to local conditions including but not limited to environment, terrain, physical obstructions, vehicle location and orientation, interference and other possible impediments.
Request A Quote