Compustar Volkswagen & Audi Specific Kits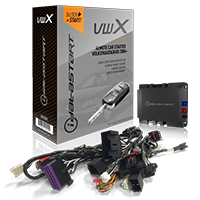 Compustar Volkswagen and Audi Specific Kits
are specially designed to work with certain VW and Audi models and utilizes the cars factory remote to operate the remote start.  The factory fob then remains active while the car is running.  Our installation price includes all parts and labor including the bypass module needed for most installations.  Prices may vary for  some vehicles.  Included with installation are the following:
No factory key fob needed for install
Remote start operation with factory remote.
Remote start range is limited to the range of the factory remote.
Factory key fob remains active while remote started.
25 minute default run time but 3, 15 and 45 minute options are also available.
Valet Mode.
Pit stop mode allowing user to remove key and leave car running.
Compustar remote pack compatible:  1 button,  2 way remote add $104.50.  4 button, 2 way remote add $134.50.  3,000′ foot range* with either remote.
Add Drone Mobile for additional $199.50.
*3,000 Foot Range:
Based on line of sight, unobstructed testing in ideal conditions. Actual range will vary due to local conditions including but not limited to environment, terrain, physical obstructions, vehicle location and orientation, interference and other possible impediments.
Request A Quote